NYNCS Steering Committee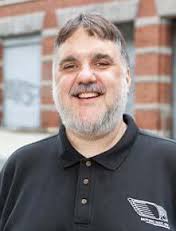 Stephen Ebinger is a former curator and veteran of several museums in New England. With degrees in Anthropology, and History Museum Studies, he has managed collections, built exhibits and developed education programming for all ages. Mr. Ebinger is currently dividing his time between freelance woodworking projects and giving tours at the Museum of the American Gangster in New York City. He is also the founder and coordinator of the NY Steampunk craft co-op and specializes in historic furniture.
Catherine Siemann has a Ph.D. in Nineteenth-Century British literature from Columbia University, and teaches at the Cooper Union and John Jay College, CUNY. She writes on Victorian and Romantic literature and culture, as well as on contemporary popular culture, and has been published in Law & Literature, Nineteenth Century Gender Studies, and Neo-Victorian Studies, as well as the edited collections Steaming into a Victorian Future,  Fighting the Forces: What's at Stake in Buffy the Vampire Slayer, and the forthcoming Re(a)d in Tooth and Claw: Shapeshifters, Transformation, and Hybridity. She also has a J.D. from New York University. Catherine lives in Chelsea with her husband and cats, enjoys New York City history and choral singing, and really will learn to sew one of these days.
Catherine 'Caitlin' Strachan is a historian that dons many hats, from tour guide to bar tender to designer. Having an avid interest in 19th-century history, Caitlin has a particular interest in historic anthropology. In her spare time she plans events and maintains the main web page.
Committee Members
Mara Bel is one of the society's keepers of the cyberspace office. She maintains the Instagram and Tumblr pages of the society, touting all things interesting about history. In her free time she also travels to far reaching places.
Yami Manuel is a native of Texas with a deep interest in fashion, costumes, philosophy and comic books. Between moderating our Facebook page and attending events Yami also cosplays various superheroes, a result in her years of training in the fashion industry that coincides with her love of comics.
Joe Kennedy is a Information Technology Manager and is a contributor to several IBM Systems publications. He has a love of all technologies and how they shape and influence society. His interests also include genealogy and literature. His family has lived in the New York City area since the early 1800s. He is a graduate of the New York Institute of Technology and coaches a High School Robotics team. He has a son and a daughter both studying the sciences at Rutgers University.
The Society's Founders
Zoh Rothberg's work with the NYNCS primarily focuses on textile and fashion history related events. She also writes the blog Costume and Construction.

Eva Ulz, is a mildly eccentric young lady who lives in a West Coast bungalow with her ever-patient husband and no cats. She whiles away most of her time sewing, reading, writing, cooking, musing about this and that, and sometimes playing the cello. She has spent much of her life working in historic house museums, including New York City's Merchant's House Museum. She is the authoress of the blog Circa 1850.
Samuel Sobek is a native New Yorker and lover of all things historical and educational.  His particular interest is in the history of technology and its impact on human society. Samuel is also the founder of The New York Nineteenth Century Extravaganza, an event bringing together thinkers and makers to enjoy various activities and to promote the history of his fair city.

Sarah Lohman recreates historic recipes as a way to make a personal connection with the past. She chronicles her explorations in culinary history on her blog, FourPoundsFlour.com, and her work has been featured in publications as diverse as Edible Manhattan and NHK Japanese Public Television.  Currently, she is featured in NYC-TV's mini-series Appetite City cooking culinary treats from New York's past. Sarah's work with the Society focuses primarily on culinary-related events.
Ilana Kohn is a designer of the epoynous womenswear label and a student of historic architecture, having received her Masters degree in historic preservation. She has an extensive background in illustration and her work has been seen in a variety of publications, including the New Yorker.