If you'd like to see upcoming events with the society, please visit our Facebook page.
The New York Nineteenth Century Society unites historians, scholars, artists, philosophers, dreamers, and impresarios inspired by the 19th century. Members volunteer their time and talents to help one another create public events, workshops, lectures, exhibitions, etc.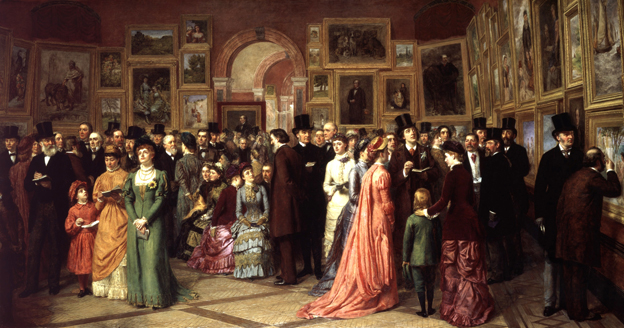 A Private View, by W. P. Frith
In addition to a monthly General Meeting and Distinguished Speaker Series, the Society also runs the Victorian Hand Sewing Circle, and is associated with
The Bartitsu Club of NYC
for practitioners of 19th century martial arts. There are also individuals organizing in the areas of painting and illustration, historic foodways, literature, sewing, and photography.
Membership in the Society is free and open to anyone who wishes to join. You do not need to be a member to attend meetings or events. All are welcome.
The New York Nineteenth Century Society is in association with the Greater Astoria Historical Society, a non-profit organization supported by the Long Island City community.
The New York Nineteenth Century Society is a 501c3 non-profit organization.