The New York Nineteenth Century Society unites historians, scholars, artists, philosophers, dreamers, and impresarios inspired by the 19th century. Members volunteer their time and talents to promote the study and understanding of life in 19th-century New York City and the surrounding area through participatory workshops, lectures, exhibitions, tours, and other events open to the public.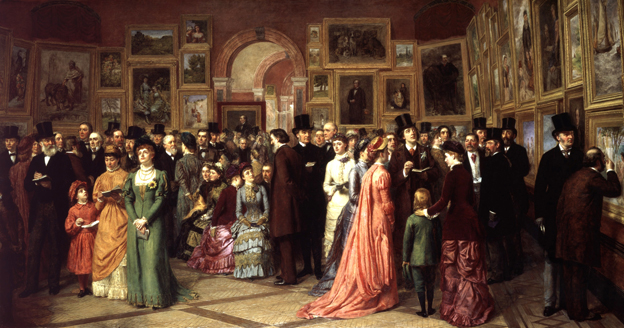 A Private View, by W. P. Frith
Regular events include a monthly General Meeting, a Speaker Series, and the Victorian Parlorcraft Circle. Our keynote event is the annual 19th Century Extravaganza at the historic Old Stone House in Brooklyn. The Society also collaborates with friends and associates at local historical sites and organizations.
You do not need to be a member to attend meetings or events. All are welcome. View our Calendar to see upcoming events, follow us on Facebook, or join the mailing list to receive updates.