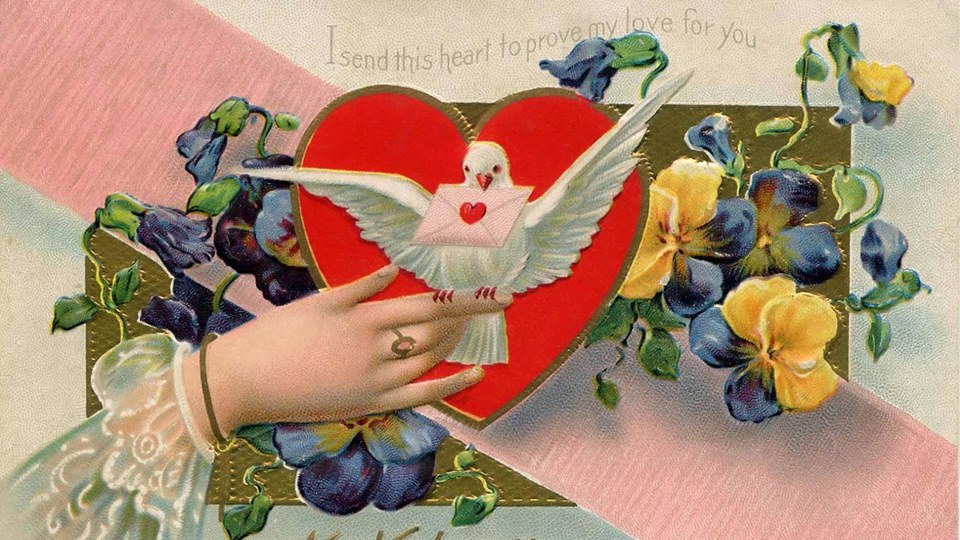 Saturday, February 6, 2:00 p.m.
Jefferson Market Library, First Floor
425 Avenue of the Americas
New York, NY 10011
Join the New York Nineteenth Century Society Parlorcraft Circle for Victorian Valentines! The earliest valentines date to the 15th century, but the tradition reached its peak in the 19th century when paper and materials became affordable. Valentine's Day was a favorite holiday in the 19th century, and both commercial and homemade valentines were exchanged. They were cherished keepsakes, more important than Christmas cards. The penny post also contributed to the popularity of sending valentines.
Materials, supplies, and instruction will be provided to make a valentine craft such as a heart-shaped paper box, a valentine fan, or and old-fashioned valentine card for your sweetheart.
Tea and light refreshments will be served but you may bring your own treats to share if you wish. Please leave your laptops and modern sewing/craft projects at home for this event – we're all about the historic hand work!
Donations of tea as well as supplies and materials are always welcome.
Materials for this event also supplied by the generosity of Materials for the Arts.
Moderated by Rachel Klingberg and Morgana Toglia, we heartily invite you to craft and design to your hearts content!
If you have a special craft or skill from history that you would like to share, please let us know: letters@nyncs.org