19th Century Parlorcraft Circle: Rag Rugs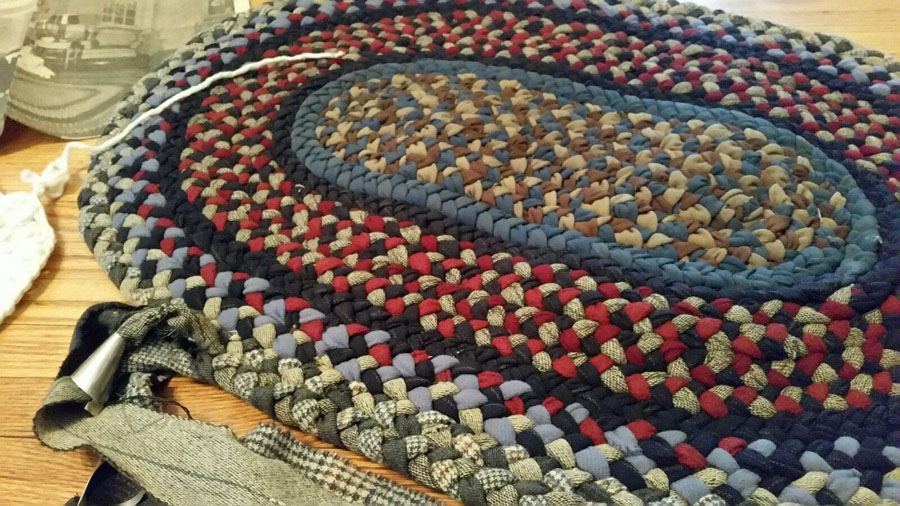 Saturday, September 29
2:00 p.m. – 4:00 p.m.
Jefferson Market Library, Third Floor
425 Avenue of the Americas
New York, NY 10011
Join the New York Nineteenth Century Society Parlorcraft Circle as we explore the humble rag rug, the kind that still line the floors of many a New England farmhouse. Fabric became more affordable in the mid-19th century, and imported cotton replaced homespun linen, but thrifty housewives still saved scraps, no matter how small. These scraps were woven, knitted, crocheted, hooked, or braided into the ubiquitous rag rugs. Such rugs are so long-lasting and durable that many 19th-century examples survive today. They were also economical, and in the days when only the wealthy could afford a Persian rug or loomed tapestry rug, rag rugs were an attractive alternative to bare floors.
There are at least 100 different methods of making a traditional rag rug, but we will focus on the easiest and most commonplace method of braiding and coiling. You'll learn the technique and go home with, if not a whole rug, at least a coaster than you can continue to work into a rug. Please bring an old tee-shirt, or several, that you don't mind destroying to create a rug. We will have extras on hand but to ensure that everyone has enough fabric, please do bring your own.
Moderated by Rachel Klingberg and Morgana Toglia, we heartily invite you to craft and design to your heart's content!
If you have a special craft or skill from history that you would like to share, please let us know: letters@nyncs.org