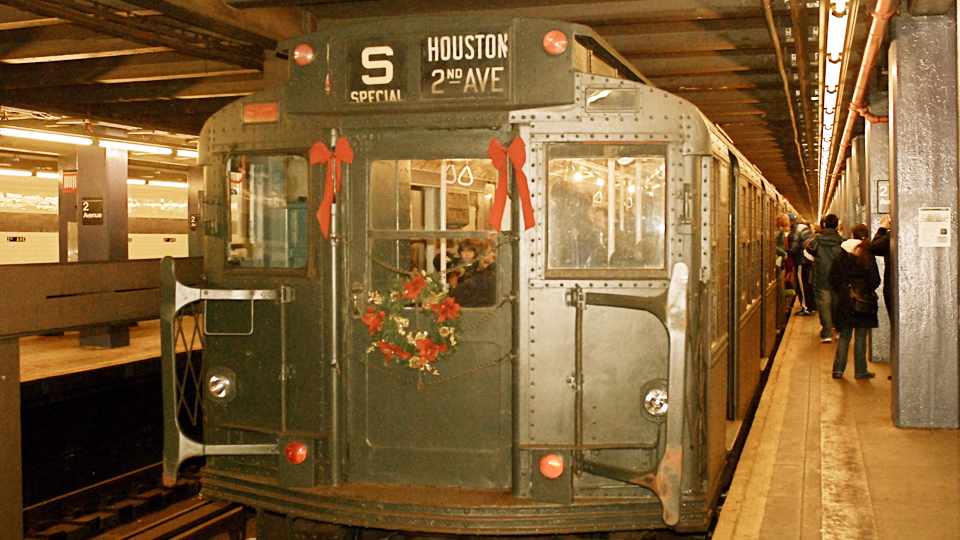 Nostalgia Train Meetup with NYC Steampunks
Saturday, December 17
Second Avenue Subway Station
Houston Street and Second Avenue
9:30 a.m. – 6:00 p.m.
The MTA Nostalgia Train is making its annual run, our friends the NYC Steampunks will be riding in style. Please join us for a dressed-up subway gathering meet-up aboard vintage trains from the 1930s-1970s, complete with rattan seats, drop-sash style windows, ceiling fans, incandescent bulb lighting, vintage roll signs, and original advertisements!
The plan is to meet at the F line Second Avenue station on the Uptown platform around 9:30 a.m. and board the first train when it arrives. Alternatively, if you're coming from Uptown, you are welcome to just meet us at the last stop, which is the 96th Street Q line station. We'll likely stay at the station until the train departs back to Manhattan at approximately 11:00 a.m.
If you miss the first ride, many of us will be going back and forth more than once. The trains tend to get more crowded as the day progresses, so some of us are going to try to start with the early run.
Here is the schedule per MTA:
Leaving Second Avenue (Q Line)
10:00 a.m.
12:00 p.m.
2:00 p.m.
4:00 p.m.
Leaving 96th Street (Q Line)
11:00 a.m.
1:00 p.m.
3:00 p.m.
5:00 p.m.
While you may want to attempt to bring food and drink to share with others, note that we will be on a moving subway train that may get crowded after a while, and has an MTA employee in every car. You may instead wish to grab food somewhere afterwards.
As usual, steampunk or vintage attire is encouraged, but not required.