19th Century Parlorcraft Circle: Reticules and Bow Ties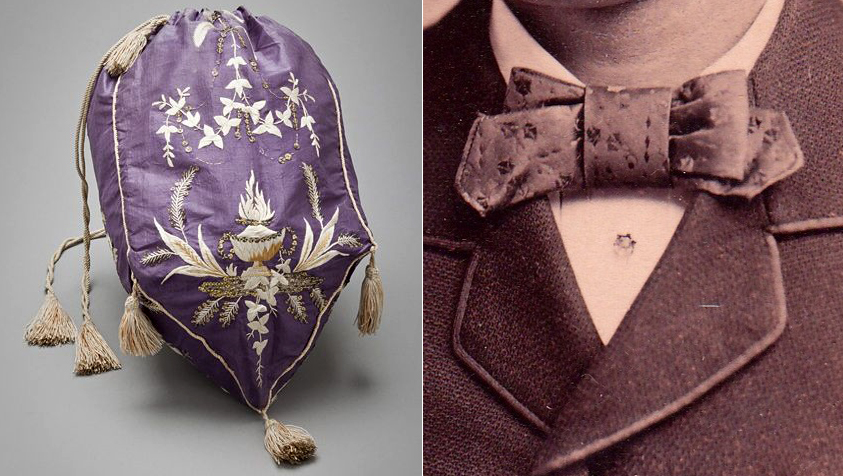 Saturday, March 3
2:00 p.m.
Hudson River Museum
511 Warburton Ave, Yonkers, New York 10701
Learn to create 19th-century accessories at this historical craft workshop. Materials, supplies, and instruction will be provided to make a circa 1831 reticule or c. 1890 bow tie.
Small carrying cases for personal items date back to the earliest civilizations, but social changes in the 18th and 19th centuries led to their evolving into the types of bags we still carry today. Pouches for coins, commonly worn at the belt to prevent theft, were replaced by wallets, pocket-books, envelope purses, and reticules. The narrow, high-waisted silhouette of Regency fashions made belt purses and removable pockets of earlier eras impractical. Small, dainty handbags called reticules were carried by fashionable ladies to carry handkerchiefs, fans, dance cards, scent, smelling salts, and other necessities.
From sailors to schoolgirls, gentlemen of leisure to 1890s "New Women," neckties were an essential part of the 19th-century wardrobe. Since the 17th-century French king Louis XIII made them fashionable, neckties have been de rigeur in Western society. From the voluminous white Regency stock to Navy officer's black neck-cloth, the loose working-man's kerchief to the thin four-tingered ties worn in the American West, no 19th-century man's wardrobe was complete without one. The bow tie emerged in the early 1800s, derived from the cravat. When tuxedos became fashionable in the late 19th century, the accompanying black bow tie became the new standard for formal wear. Today bow ties are not just for formal wear, but they are still associated with a more conservative style than straight neckties.
Materials, supplies, and instructions will be provided. Limited to 15 participants.
Tickets: $5.00 (free for museum members)