Join the New York 19th Century Society for an afternoon of sailing, knot-tying, historic drinking establishments, and maritime adventures! We will meet at Pier 16 in the South Street Seaport at 12:45 p.m. At 1:00 p.m. we sail aboard the 1885 schooner Pioneer, a vessel dedicated to recreating nineteenth-century sailing for the public. The Pioneer was built in 1885, and was first iron sloop built in the United States, and only surviving American iron-hulled sailing vessel. During our two-hour cruise on the East River, we'll get a taste of the New York's maritime history, and enjoy a refreshing afternoon of sun, wind, and sail, and of course, fantastic photo opportunities for your very best 19th-century garb!
We'll be joined by veteran sailor Rene "RJ" Cote, who will share his extensive knowledge of maritime history with Society members. Journalist Tony Perrottet, who is a researching the city's waterfront revival for an upcoming article in Smithsonian magazine, and possibly a photographer as well, will also accompany us.
Once ashore at 3:00 p.m, RJ will demonstrate the practical and decorative art of marine knots on the promenade of the East River. Learn about the history of New York's harbors, and try your own hand at knot-tying! Nowhere has the knot been as critical as in the Age of Sail, when the lives of the crew and safety of the ship depended on the sailor's skill with knotting and splicing. During long days at sea, sailors created many decorative and beautiful objects with knot-work, showcasing their skills on elaborate knot-boards, furniture handles, jewelry, rugs, and other artistic creations.
At 4:00 p.m. for those salty dogs who wish to extend their maritime adventures, we'll retreat to the historic pubs along the East River for drinks and lively discussion (The Paris Cafe, est. 1873, or Fraunces Tavern, est. 1762, or Delmonico's Bar, est. 1827).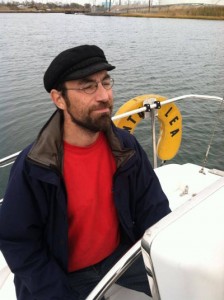 Veteran sailor Rene "RJ" Cote has been sailing since childhood, and has owned and operated sailboats for over 20 years. He also teaches sailing, and is the Vice President and Director of the "Teach and Take a Kid Sailing Program" program, which is run by the Foundation for Safe Boating and Marine Information. He is the owner and proprietor of Seabreeze Computer Services, an IT consulting firm. Originally from Connecticut, he currently resides in Harlem and enjoys sailing his 31-foot sloop, the Quantum Leap.
All proceeds benefit the South Street Seaport Museum, a cultural institution dedicated to telling the story of the rise of New York as a port city and its critical role in the development of the United States. The Museum uses its historic buildings and ships to provide interactive exhibits, education, and experiences. "We preserve, we sail, we teach."